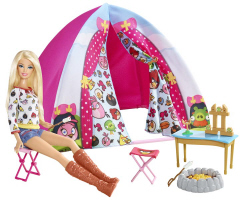 Barbie Angry Birds Accessory (TARGET)
Product#: Y8719
Released: 2013
Discontinued:
Ages: 3 years and up
Product Desciption:
BARBIE® Loves ANGRY BIRDS™ Accessory (Target)*: Barbie® loves Angry Birds™ and always goes camping with her favorite Angry Birds™ tent and tabletop game.
Girls can set up Barbie® doll's Angry Birds™ printed tent, sit Barbie® doll on her Angry Birds™ printed stools at her picnic table with a tabletop version of the Angry Birds™ game or have fun by the campfire telling scary stories about Angry Birds™. It's so much Angry Birds™ camping fun! Doll not included but sold separately.
Instruction Sheets
Click on a link below to view the Adobe PDF Format Instruction Sheet. To ensure proper operation, please download ALL instruction sheets for your product.
Frequently Asked Questions
What are the best kind of batteries to use in Fisher-Price® and Mattel® products?

A.    We recommend using alkaline batteries with our products, as they are great for long-term use and help optimize performance. We don't recommend using Carbon-Zinc batteries. While Carbon-Zinc batteries may work well with low-power devices, they can drain after a short period of time and cause certain products to not function properly.
Purchase Parts
Sorry, replacement parts are not currently available for this product