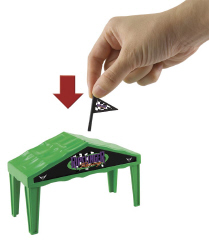 CARS Planes Ripslinger Pit Row Gift Pack
Product#: Y5738
Released: 2013
Discontinued:
Ages: 3 and up
Product Desciption:
Disney/Pixar CARS Planes Gift Set Assortment
All kids' favorite characters from the Disney Toons Studios Planes video are flying in, and with these sets they are looking their best! Featuring a die-cast racer, custom decoed tent and an exclusive pitty that is only available in this gift set, kids can prepare their planes for the next race. Includes 1 die-cast racer plane, 1 pitty and a tent. Each sold separately, subject to availability.
Frequently Asked Questions
What are the best kind of batteries to use in Fisher-Price® and Mattel® products?

A.    We recommend using alkaline batteries with our products, as they are great for long-term use and help optimize performance. We don't recommend using Carbon-Zinc batteries. While Carbon-Zinc batteries may work well with low-power devices, they can drain after a short period of time and cause certain products to not function properly.
Purchase Parts
Sorry, replacement parts are not currently available for this product