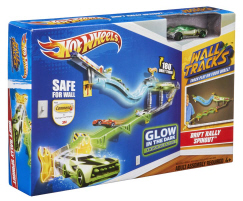 HW Glow Drift Rally Spinout
Product#: Y2505
Released: 2012
Discontinued: 2013
Ages: 4 Years and up
Product Desciption:
Hot Wheels® Glow in the Dark Assortment
Now Wall Tracks™ glow in the dark! Drive cars down the wall and race in the dark around cool flips and turns with glowing pieces of track! Sets offer great standalone play or connect to other sets for even more fun. Includes 1 glow-in-the-dark die-cast car and safe-for-walls Command™ strips from 3M.
Instruction Sheets
Click on a link below to view the Adobe PDF Format Instruction Sheet. To ensure proper operation, please download ALL instruction sheets for your product.
Frequently Asked Questions
Purchase Parts
Sorry, replacement parts are not currently available for this product