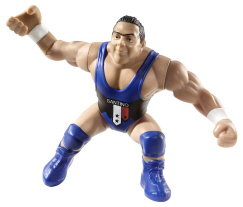 WWE® Power Slammers™ Santino
Product#: Y0233
Released: 2013
Discontinued:
Ages: 6 years and up
Product Desciption:
WWE® Power Slammers™ are the first figures that recreate real WWE® action! These figures are kid-powered. Just crank them up, attach two figures together and activate to begin a wild match! Each figure has one of three fighting styles, so every match is different. Each sold separately, subject to availability.
Instruction Sheets
Click on a link below to view the Adobe PDF Format Instruction Sheet. To ensure proper operation, please download ALL instruction sheets for your product.
Frequently Asked Questions
What are the best kind of batteries to use in Fisher-Price® and Mattel® products?

A.    We recommend using alkaline batteries with our products, as they are great for long-term use and help optimize performance. We don't recommend using Carbon-Zinc batteries. While Carbon-Zinc batteries may work well with low-power devices, they can drain after a short period of time and cause certain products to not function properly.
Purchase Parts
Sorry, replacement parts are not currently available for this product