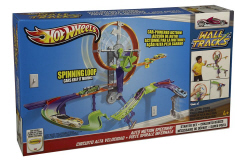 Hot Wheels® Intl Wall Tracks Spring Tv
Product#: X9320
Released: 2013
Discontinued: 2014
Ages: 4 years and up.
Product Desciption:
Hot Wheels® International Wall Tracks™ Autom-Motion Speedway™ Track Set:
Cars power this Hot Wheels® Wall Tracks™ set for continuous action and a visual wow! Once loaded, cars set the top wheel spinning as they travel around and out onto the next leg. The track keeps moving as vehicles try to maneuver the turn, the bridge and the jump. Diverters add options to amp up the action! A hanging poster adds the perfect backdrop for the whirl of activity. The set connect to other Wall Tracks™ sets, sold separately, to create an entire car-powered world on the wall! Includes 1 die-cast car and safe-for-walls Command™ strips from 3M. Not for use with some Hot Wheels® vehicles. Ages 4 and older.
Instruction Sheets
Click on a link below to view the Adobe PDF Format Instruction Sheet. To ensure proper operation, please download ALL instruction sheets for your product.
Frequently Asked Questions
Purchase Parts
Sorry, replacement parts are not currently available for this product