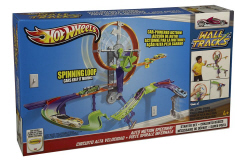 Hot Wheels® Intl Wall Tracks Spring Tv
Product#: X9320
Released: 2013
Discontinued: 2014
Ages: 4 years and up.
Product Desciption:
Hot Wheels® International Wall Tracks™ Autom-Motion Speedway™ Track Set:
Cars power this Hot Wheels® Wall Tracks™ set for continuous action and a visual wow! Once loaded, cars set the top wheel spinning as they travel around and out onto the next leg. The track keeps moving as vehicles try to maneuver the turn, the bridge and the jump. Diverters add options to amp up the action! A hanging poster adds the perfect backdrop for the whirl of activity. The set connect to other Wall Tracks™ sets, sold separately, to create an entire car-powered world on the wall! Includes 1 die-cast car and safe-for-walls Command™ strips from 3M. Not for use with some Hot Wheels® vehicles. Ages 4 and older.
Instruction Sheets
Click on a link below to view the Adobe PDF Format Instruction Sheet. To ensure proper operation, please download ALL instruction sheets for your product.
Frequently Asked Questions
What are the best kind of batteries to use in Fisher-Price® and Mattel® products?

A.    We recommend using alkaline batteries with our products, as they are great for long-term use and help optimize performance. We don't recommend using Carbon-Zinc batteries. While Carbon-Zinc batteries may work well with low-power devices, they can drain after a short period of time and cause certain products to not function properly.

How do you assemble the rubber band in the Hot Wheels rubber band launchers?

On the underside of the launcher, each end of the rubber band should be wrapped around a peg on each side of the main launcher and then doubled up and hooked around the center tab of the moveable portion of the launcher.

Here is a picture of an assembled rubber band launcher!

What surfaces will 3M Command™ Strips stick to?

3M Command™ Strips can be used on painted, stained or varnished wood, glass, tile, painted cinder block, plaster, metal, and wallboard.

Will 3M Command™ Strips stick to brick?

No. 3M Command™ strips are intended for mostly smooth surfaces. However, they will stick to painted, smooth cinder block (the type found inside many school buildings).

Can I use 3M Command™ Strips on fresh paint?

Paint should be fully cured (check paint can for manufacturer's cure time) before using 3M Command™ strips. We recommend waiting a week. Also, alcohol may remove or dull the surface of fresh paint.

Can I use 3M Command™ Strips on glass windows?

It is okay to use 3M Command™ strips if the glass is not exposed to direct sunlight or not flooded with water. For example: Do not use inside or outside on south or west windows.

Can I use 3M Command™ Strips for my Hot Wheels Wall Tracks outside in cold climates?

You can, but the adhesive should be applied to a clean, smooth, dry surface when the temperature is above 50°F (10°C). If the temperature is below 50°F, you can heat the surface with a hair dryer before application.

Can I use 3M Command™ Strips outside in hot climates?

Extreme heat conditions and sunlight may cause the adhesive to eventually deteriorate, causing product failure. The adhesive could soften and lose adhesion above 105°F (40°C).

What happens if I pull too hard and the 3M Command™ Strip breaks?

Simply heat up the base plate with a hair dryer to soften the adhesive. Then use dental floss to gently cut through the foam to remove the 3M Command™ strip from the surface. Stretch or peel off the remaining adhesive.

Is there latex in 3M Command™ Strips?

No. Command™ Strips contain an adhesive that is a synthetic rubber resin and does not contain natural rubber latex.

What size 3M Command™ Strips are used with the Hot Wheels® Wall Track™ Playsets? Medium 3M Command Mounting™ Refill Strips can be used to hang the Hot Wheels

®

Wall Track™ Playsets.
Watch set-up videos about Hot Wheels® Wall Tracks™!

Instructional videos include a review of box contents, items you'll need to get started and helpful tips about Hot Wheels Wall Tracks.

How can I get the booster from my Hot Wheels® Wall Tracks™ set to work?

The booster needs to be correctly assembled to its designated wall bracket in order to function. The designated wall bracket has a notch on it. This notch ensures the motor only works when attached to the bracket. All other brackets are flat.

Watch set-up instructions for your track.

Purchase Parts
Sorry, replacement parts are not currently available for this product