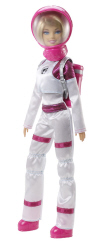 Barbie® I Can Be…™ Mars Explorer™ Doll
Product#: X9073
Released: 2013
Discontinued:
Ages: 3 and up
Product Desciption:
Blast off into outer space with this year's Barbie® I Can Be…™ Mars Explorer™ Doll! Barbie® as a Mars Explorer™ doll is truly out of this world! Girls will love exploring the role of an astronaut with Barbie® doll who - always a pioneer - is on a mission to Mars. Of course, her functional suit is also stylish - she wouldn't want to make a bad first impression on any alien life forms she might encounter! The sleek white jumpsuit has shiny pink strips on her legs and at her waist, with gathers on her legs to ensure a safe fit. Shiny, metallic pink also adorns the shoulders of her top, which has cropped accents and is emblazoned with the Barbie® logo in black. In keeping with her usual color scheme, this astronaut's space equipment is a cheery Barbie® signature pink, of course! Big boots keep her grounded, and a helmet with clear visor will help her to keep her head if things get unearthly. Put on her bright pink air tank with its silver straps to ensure she has enough oxygen for whatever exploration and resulting adventures she encounters. Girls will love imagining the career of this astronaut sure to be loved throughout the universe!
Frequently Asked Questions
What are the best kind of batteries to use in Fisher-Price® and Mattel® products?

A.    We recommend using alkaline batteries with our products, as they are great for long-term use and help optimize performance. We don't recommend using Carbon-Zinc batteries. While Carbon-Zinc batteries may work well with low-power devices, they can drain after a short period of time and cause certain products to not function properly.
Purchase Parts
Sorry, replacement parts are not currently available for this product