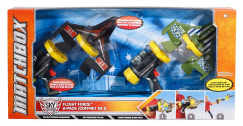 Matchbox® Flight Force® 2-Pack
Product#: X0367
Released: 2012
Discontinued:
Ages: 5 and up
Product Desciption:
Matchbox® Flight Force® 2-Packs
Flight Force® planes put the power of flight in kids hands! Wind up the easy-to-use launcher, attach the foam plane and pull the trigger for hours of high-flying action!
Instruction Sheets
Click on a link below to view the Adobe PDF Format Instruction Sheet. To ensure proper operation, please download ALL instruction sheets for your product.
Frequently Asked Questions
Purchase Parts
Sorry, replacement parts are not currently available for this product