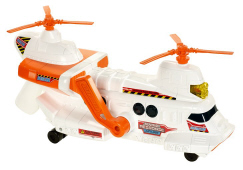 Matchbox® Mega Power Shift Coast Guard Helicopter
Product#: W7087
Released: 2012
Discontinued:
Ages: 3 years and older.
Product Desciption:
Matchbox® Mega Power Shift™ Assortment:
Lights and sounds get bigger and brighter with this assortment that adds a Power Shift™ innovation. Each large-scale vehicle has an easy-to-use feature, such as a lever, that creates specific movements, lights and sounds when pushed or pulled. Push one way and watch the helicopter spin its propellers; pull in the other direction and release its grappling hook. Vehicles include a rescue helicopter, fire truck and garbage truck. All of the vehicles are equipped for maximum adventure! Ages 3 and older. W7084 Assortment.
Instruction Sheets
Click on a link below to view the Adobe PDF Format Instruction Sheet. To ensure proper operation, please download ALL instruction sheets for your product.
Frequently Asked Questions
Purchase Parts
Sorry, replacement parts are not currently available for this product