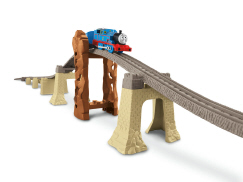 Thomas & Friends™ TrackMaster™ Height Track Pack
Product#: V7624
Released: 2011
Discontinued:
Ages: 3 years+
Product Desciption:
TrackMaster™ Deluxe Expansion Elevation Track Pack

Now you can get even more height with your TrackMaster layouts. With this height pack, your TrackMaster engines can power up a 9" tall hill and race back down the other side. Includes 13 pieces of track and 10 track risers to expand your Thomas & Friends world.
Instruction Sheets
Click on a link below to view the Adobe PDF Format Instruction Sheet. To ensure proper operation, please download ALL instruction sheets for your product.
Frequently Asked Questions
Purchase Parts
Sorry, replacement parts are not currently available for this product