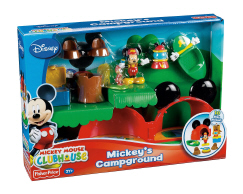 Mickey's Campground
Product#: V2455
Released: 2011
Discontinued:
Ages: 2+
Product Desciption:
Welcome to Mickey's Campground, there's so much to do! Help Mickey take a ride in the kyak and then grill up some food and sit by the fire on the log benches. Store leftovers in the cooler, and then head to the tent for some rest after a long day of camping! Comes with 10 play pieces, including the new lantern & wooden stump with Chip popping out!
Frequently Asked Questions
What are the best kind of batteries to use in Fisher-Price® and Mattel® products?

A.    We recommend using alkaline batteries with our products, as they are great for long-term use and help optimize performance. We don't recommend using Carbon-Zinc batteries. While Carbon-Zinc batteries may work well with low-power devices, they can drain after a short period of time and cause certain products to not function properly.
Purchase Parts
Sorry, replacement parts are not currently available for this product