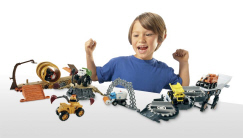 Matchbox® Big Rig Buddies™ Scrap Yard Adventure
Product#: T9035
Released: 2011
Discontinued:
Ages: 3 years and up
Product Desciption:
Matchbox® Big Rig Buddies™ Scrap Yard Adventure
The scrap yard is no place to play...or is it? This adventurous play set is the perfect environment for your Big Rig Buddies™ mini vehicles to have some fun! Inspired by the Big Rig Buddies™ DVD, this set includes exciting and challenging scrap yard obstacles like wheels, elevators, barrels and connection points that "transform" your favorite characters. Mix and match the sets to customize your own Big Rig Buddies™ world.
Instruction Sheets
Click on a link below to view the Adobe PDF Format Instruction Sheet. To ensure proper operation, please download ALL instruction sheets for your product.
Frequently Asked Questions
Purchase Parts
Sorry, replacement parts are not currently available for this product