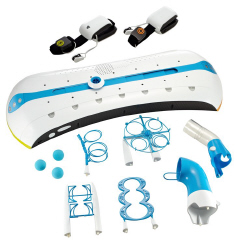 Mindflex Duel™ Game
Product#: T8498
Released: 2011
Discontinued: 2012
Ages: 8 and up
Product Desciption:
Mindflex Duel™ Game
Have you ever dreamed of moving an object with the power of your mind? Mindflex Duel™, the mental acuity game from Mattel, makes that dream a reality! Now two brains are in the game, and there are all new obstacles for more extreme action! Mindflex® combines advanced technology with the power of thought to create an interactive experience unlike any other-a game where players compete in the ultimate Mental Marathon®! Get ready for competitive head-to-head play in the Game of Power Push-whoever has the most mental power to push the ball into the opponent's zone wins! Other cool games include: Race the Lights, Basketblaster™, Cortex Collision and Mental Marathon® 2.0. Includes two headsets.
Instruction Sheets
Click on a link below to view the Adobe PDF Format Instruction Sheet. To ensure proper operation, please download ALL instruction sheets for your product.
Frequently Asked Questions
What are the best kind of batteries to use in Fisher-Price® and Mattel® products?

A.    We recommend using alkaline batteries with our products, as they are great for long-term use and help optimize performance. We don't recommend using Carbon-Zinc batteries. While Carbon-Zinc batteries may work well with low-power devices, they can drain after a short period of time and cause certain products to not function properly.
Purchase Parts
Sorry, replacement parts are not currently available for this product