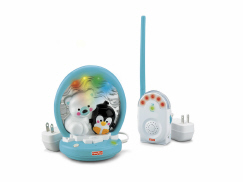 Precious Planet™ Soothing Lights Monitor
Product#: R4814
Released: 2009
Discontinued: 2009
Ages: Adult custody product.
Product Desciption:
The new Precious Planet Sounds 'N Lights Monitor includes 2 cute PP charactors, a Polar Bear and a Penguin, sitting on an Iceberg with a clear panel behind them that will reflect the Glowing lights. The lights on the receiver are now on both sides, allowing greater visibility around the house. This monitor also includes soothing lights that glow on and off on the transmitter to calm baby and provide a night light for the nursery. It also features a low battery indicator on the receiver. The monitor will have five traditional LED lights to see baby's call, volume control, AC/DC power featuring an energy saving power cord, plus a power light.
Instruction Sheets
Click on a link below to view the Adobe PDF Format Instruction Sheet. To ensure proper operation, please download ALL instruction sheets for your product.
Frequently Asked Questions
Purchase Parts
Sorry, replacement parts are not currently available for this product