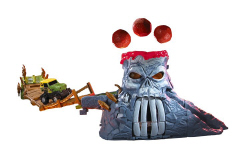 Matchbox® Power Scouts™ Skull's Challenge™ Adventure System Playset
Product#: M0157
Released: 2008
Discontinued:
Ages: 3 and up
Product Desciption:
Matchbox® Power Scouts™ Skull's Challenge™ Adventure World
The mission is to retrieve the ancient crystals from Skull's Challenge™! The Power Scouts™ take on the ultimate test as they travel treacherous roads and dodge falling boulders on the exciting journey! Use the Power Scouts™ 4x4s all-wheel drive to master the crushing climb to the top of Skull's Challenge™ and then get ready to explore what waits inside the skull! Sure to inspire loads of manipulative fun and imaginative play, the set features enough challenging barriers and touch-point obstacles to impress even the bravest explorer. Not for use with some Matchbox® vehicles. Colors and decorations may vary.
Instruction Sheets
Click on a link below to view the Adobe PDF Format Instruction Sheet. To ensure proper operation, please download ALL instruction sheets for your product.
Frequently Asked Questions
Purchase Parts
Sorry, replacement parts are not currently available for this product