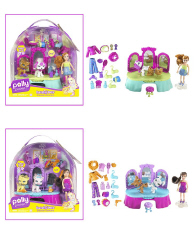 Polly Pocket™ Dazzlin' Pets™ Pirouette Pairs™ Playset Assortment
Product#: L9810
Released: 2008
Discontinued:
Ages: 4 and up
Product Desciption:
Polly Pocket™ Dazzlin' Pets™ Pirouette Pairs™ Playset Assortment This glamorous vanity sets the stage for 360-degree fashion show in the three-way "mirror"! Place the pets center stage, turn the wheel on the vanity and watch them do a graceful turn to show off sparkling, faceted eyes and collars, colorful fashions and bows! Lea® or Lila® dolls emcee the show. Includes doll, fashions and and two collectible pets with number-imprinted paws. Ages 4 and over.
Instruction Sheets
Click on a link below to view the Adobe PDF Format Instruction Sheet. To ensure proper operation, please download ALL instruction sheets for your product.
Frequently Asked Questions
What are the best kind of batteries to use in Fisher-Price® and Mattel® products?

A.    We recommend using alkaline batteries with our products, as they are great for long-term use and help optimize performance. We don't recommend using Carbon-Zinc batteries. While Carbon-Zinc batteries may work well with low-power devices, they can drain after a short period of time and cause certain products to not function properly.
Purchase Parts
Sorry, replacement parts are not currently available for this product