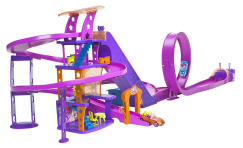 Polly Pocket™ Polly Wheels™ Race to the Mall™ Playset
Product#: L4357
Released: 2007
Discontinued: 2008
Ages: 4 years and up
Product Desciption:
Polly and her friend can race through the big city and win the flag at the finish line, or dine, shop and stop for the view at the high observation deck. Girls place Polly and Lila in the two cars at the gate, push the button and race, or simply push on the car for continuous cruising, up the elevator and around the town. Window box. Ages 4 and over.
Instruction Sheets
Click on a link below to view the Adobe PDF Format Instruction Sheet. To ensure proper operation, please download ALL instruction sheets for your product.
Frequently Asked Questions
What are the best kind of batteries to use in Fisher-Price® and Mattel® products?

A.    We recommend using alkaline batteries with our products, as they are great for long-term use and help optimize performance. We don't recommend using Carbon-Zinc batteries. While Carbon-Zinc batteries may work well with low-power devices, they can drain after a short period of time and cause certain products to not function properly.
Purchase Parts
Sorry, replacement parts are not currently available for this product