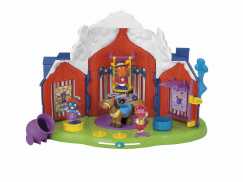 Bobblin' Big Top
Product#: K3065
Released: 2007
Discontinued: 2008
Ages: 18 mo & up
Product Desciption:
The Bobblin' Big Top delivers music, surprises, and bobblin' movement! It starts as the backyard from the start of every Backyardigans episode and plays the theme song. But, like the show, the backyard transforms. With the press of a button, the house rotates to expose a full circus tent. The top of the tent pops up and 3 rings pop out. And of course, there are performers: bobblin' Master of Ceremonies Tyrone, bobblin' High Diver Pablo, and bobblin Clown Uniqua. Each has a bobblin' feature that gives them movement like on the show. They can bobble up with baloons, dive off the high dive, shoot from the cannon, and bobble along the trapeze. Or, bobble along to Backyardigans music! Place the Bobblers on the hotspots, pull the lever, and they'll dance along to Backyardigans music.
Frequently Asked Questions
What are the best kind of batteries to use in Fisher-Price® and Mattel® products?

A.    We recommend using alkaline batteries with our products, as they are great for long-term use and help optimize performance. We don't recommend using Carbon-Zinc batteries. While Carbon-Zinc batteries may work well with low-power devices, they can drain after a short period of time and cause certain products to not function properly.
Purchase Parts
Sorry, replacement parts are not currently available for this product