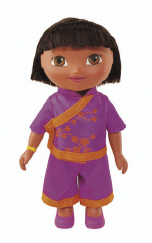 AROUND THE WORLD - CHINA
Product#: J7567
Released: 2006
Discontinued:
Ages: 3 years + up
Product Desciption:
5" Dora doll is styled like the 15" Dress Up Adventure doll, but this time around the adventure is Around the World! Each Dora doll is dressed in a traditional costume from the country Dora is visiting. Assortment includes outfits from the countries Dora visits in the tent pole. Dolls will come with a bracelet accessory for the girl. 1st Wave countries will include 4 of the following 6 candidates: France, Russia, China, Tanzania, Holland or Japan.
Frequently Asked Questions
What are the best kind of batteries to use in Fisher-Price® and Mattel® products?

A.    We recommend using alkaline batteries with our products, as they are great for long-term use and help optimize performance. We don't recommend using Carbon-Zinc batteries. While Carbon-Zinc batteries may work well with low-power devices, they can drain after a short period of time and cause certain products to not function properly.
Purchase Parts
Sorry, replacement parts are not currently available for this product