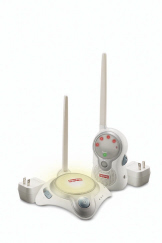 Sounds 'n Lights Monitor (Restage) 49mhz
Product#: J1315
Released: 2005
Discontinued: 2007
Ages: Adult custody product.
Product Desciption:
The new Sounds 'N Lights Monitor maintains all of the features that have made it successful with the addition of a night-light feature on the transmitter and a low battery indicator. A fresh contemporary design with a new low profile transmitter further refreshes the monitor. The monitor will have five traditional LED sounds lights to see baby's call, volume control, AC/DC operations and a power light. (49mhz)
Instruction Sheets
Click on a link below to view the Adobe PDF Format Instruction Sheet. To ensure proper operation, please download ALL instruction sheets for your product.
Frequently Asked Questions
Purchase Parts
Sorry, replacement parts are not currently available for this product