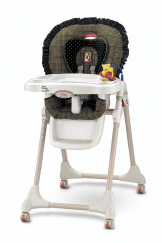 Deluxe Healthy Care™ High Chair
This product may have been recalled. Click
here
for more information.
Product#: H0796
Released: 2004
Discontinued: 2006
Ages: It is recommended that the high chair be used in the upright position only by children capable of sitting upright unassisted.
Product Desciption:
The Deluxe Healthy Care High Chair features 3 removable dishwasher safe feeding trays - one for each meal. It also features: seven easy height adjustments, one hand 3-position recline, one hand adjustment and removal of the base tray, machine washable and wipeable polycotton vinyl deluxe seat pad, 5 point restraint, and wheels for easy mobility.
Instruction Sheets
Click on a link below to view the Adobe PDF Format Instruction Sheet. To ensure proper operation, please download ALL instruction sheets for your product.
Frequently Asked Questions
Purchase Parts
Sorry, replacement parts are not currently available for this product