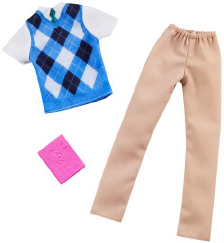 Barbie® Ken® Career Fashions
Product#: GHX42
Released: 2020
Discontinued:
Ages: 3 years and up
Product Desciption:
Just like Barbie®, Ken™ is always ready to take on a challenge and has a wardrobe that can keep up with his career goals! With a job-themed outfit and one accessory, the career Ken™ clothing packs are ready to set imaginations to work. Kids can play out a day as a science teacher with this fashion set that comes with a textbook to engage kids in storytelling. Explore and collect them all because when a girl plays with Barbie®, she imagines everything she can become! Includes one career-themed outfit and accessory; doll not included. Universal fit designed to fit Original Ken™ dolls. Each sold separately, subject to availability. Colors and decorations may vary.

With a job-themed outfit and accessory for Ken™ doll, imaginations can get to work dreaming up all kinds of career stories!

This science teacher look earns an A with kids, especially those who like learning, school and experiments!

A top with vest and tie detail is paired with tan pants to lead the class.
Frequently Asked Questions
What are the best kind of batteries to use in Fisher-Price® and Mattel® products?

A.    We recommend using alkaline batteries with our products, as they are great for long-term use and help optimize performance. We don't recommend using Carbon-Zinc batteries. While Carbon-Zinc batteries may work well with low-power devices, they can drain after a short period of time and cause certain products to not function properly.
Purchase Parts
Sorry, replacement parts are not currently available for this product