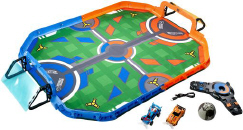 Rocket League Hot Wheels ® RC Rivals Set
Product#: FWP45
Released: 2018
Discontinued:
Ages: 8 years and up
Product Desciption:
The Hot Wheels® Rocket League® Rivals RC Set is built for the ultimate Rocket League® fan – bring authentic competition of the popular video game to life with a "Smart" Arena that comes with infrared sensor goals to keep score, along with fan-favorite vehicles Dominus and Octane, controlled by your smart device. The Rivals RC Set also comes with awesome Rocket League® downloadable content (DLC) that players can redeem in-game on the platform of their choice. (Rocket League® game sold separately.) Players master skills and fuel creativity with experimentation, while playing soccer with cars in the Rocket League® RC Rivals Set! Connected goals will track score and send it to your smart device for a gamified experience. The arena walls mark the playing field as well as a massive custom foldable mat. Amazing features include LIPO rechargeable batteries for the cars, LED thrust indicators, and vehicle bumpers with clip-in push bars for ball handling, and a master charging docking station! Download the free Hot Wheels® Rocket League® app used to control the RC cars, add turbo boost, digital scorekeeping and cheering sound FX and animations!

Features:

The authentic Rocket League® experience brought to life by Hot Wheels®!

The action of the award-winning soccer video game, Rocket League®, with the fast fun and adrenaline of physical play.

Challenging players to master skills, experiment, and solve problems with a smart stadium and high tech features.

Features include infrared sensor goals to keep score, and Dominus and Octane vehicles controlled by your smart device.

Includes Rocket League® downloadable content players can use in the video game.
Unfortunately, Hot Wheels Rocket League RC Rivals Set App support will be discontinued on or by 4/30/2022 due to licensing. Please reach out to the Mattel Consumer Services team at 800-524-8697 or email at https://m.service.mattel.com/us/Contact/EmailUs for more information.
Instruction Sheets
Click on a link below to view the Adobe PDF Format Instruction Sheet. To ensure proper operation, please download ALL instruction sheets for your product.
Frequently Asked Questions
Purchase Parts
Purchase replacement parts.