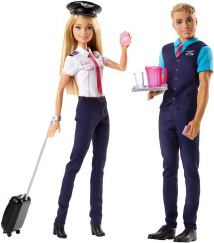 Barbie® Doll and Accessories
Product#: FNY33
Released: 2018
Discontinued:
Ages: 3 years and up
Product Desciption:
Barbie® doll and Ken™ doll are ready to take to the skies as colleagues in aviation! Both dolls are dressed in flight uniforms and come with accessories that allow fun to take off, like luggage that opens and closes and a tray with pitcher and drink! Barbie® doll can chart a course to anywhere in the world in a one-piece pilot outfit detailed with a white shirt, blue pants, black belt and a pink tie. Black boots and a pilot's hat complete the look. Ken™ doll helps serve up more storytelling opportunity dressed as a flight attendant in a top decorated with a vest and matching pink tie, blue pants and black shoes. Each doll also has their own pink passport to inspire imaginations and send kids around the globe. Young minds will love exploring the world with these two friends and colleagues because with Barbie®, you can be anything! Includes Barbie® and Ken™ dolls wearing fashions and accessories with luggage, tray, pitcher, glass and two passports. Dolls cannot stand alone. Colors and decorations may vary.

Go anywhere in the world with Barbie® and Ken™ dolls, who are ready to take off in flight uniforms and with travel accessories designed to let dreams fly!

Barbie® pilot doll comes with a piece of rolling luggage that has cool features -- it really opens and closes, and a clip on its handle snaps onto her wrist for realistic storytelling action.

Ken™ flight attendant doll serves up fun with a silvery tray that holds a pink pitcher and a water glass.

2 pink passports let these 2 fly wherever imaginations want to go!

Barbie® doll can chart a course to anywhere in a pilot's uniform with details that include pockets, insignia and a pink tie. A pilot's cap and black boots complete the look.

Ken™ doll can report for duty in a blue uniform with shirt and vest sporting matching insignia and pink tie, pants and a pair of black shoes. Young travel lovers will have so much fun visiting their favorite places, real and imaginary, with this pair because you can be anything with Barbie®!
Frequently Asked Questions
What are the best kind of batteries to use in Fisher-Price® and Mattel® products?

A.    We recommend using alkaline batteries with our products, as they are great for long-term use and help optimize performance. We don't recommend using Carbon-Zinc batteries. While Carbon-Zinc batteries may work well with low-power devices, they can drain after a short period of time and cause certain products to not function properly.
Purchase Parts
Sorry, replacement parts are not currently available for this product