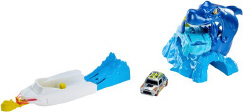 Hot Wheels® Shark Bait™ Play Set
Product#: DWK98
Released: 2017
Discontinued:
Ages: 4 years and up
Product Desciption:
The Hot Wheels® Creature Set assortment includes a variety of creature-themed track sets that offer a dramatic win/lose moment for kids vs. an awesome creature nemesis. Each set includes a creature and a Hot Wheels® car showcased in package. Choose from Cobra Coil Track Set, Crocodile Crunch™ Track Set, Scorpion's Sting Track Set or Sharkbait Play Set. Each set sold separately. Includes one Hot Wheels® vehicle. Decorations and colors may vary.
Instruction Sheets
Click on a link below to view the Adobe PDF Format Instruction Sheet. To ensure proper operation, please download ALL instruction sheets for your product.
Frequently Asked Questions
Purchase Parts
Sorry, replacement parts are not currently available for this product