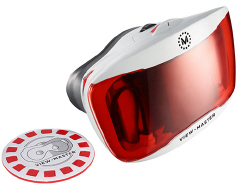 View-Master® Deluxe VR Viewer
Product#: DTH61
Released: 2016
Discontinued:
Ages: 7 years and up
Product Desciption:
Immerse yourself in a virtual world and bring an experience to life! The View-Master® Deluxe VR Viewer has advanced features to enhance your virtual reality experience.

• Get an expanded field of view with a wider lens and bring images into focus without glasses using the focus wheel.

• Hear more intensely with a headphone connector to plug in your headphones (not included).

• Hold and use more comfortably with improved ergonomics.

Now, get ready for an immersive VR experience with View-Master® Deluxe VR Viewer! Explore virtual reality with this innovative platform. Simply download one of the free View-Master® apps to your compatible smartphone (not included). Then slide your smartphone into the viewer and place the Preview Reel in front of you to unlock Augmented Reality (AR) features and sample content for View-Master® apps such as Space, Destinations, Discovery: Underwater, National Geographic: Wildlife and Into the Labyrinth™. You can fully explore these worlds by purchasing View-Master® Experience Packs and Game Packs (sold separately in-store or through in-app purchase).

The View-Master® Deluxe VR Viewer that works with Google Cardboard comes with built-in adapter for iPhone® 5, iPhone® 5c and iPhone® 5s, one Preview Reel, one headphone connector and a user guide.

The Preview content within the associated apps are free to download; access to additional app content is sold separately by purchasing the Experience Packs in-store or buying digitally through in-app purchase. Colors and decorations may vary.

Compatible smartphone required (not included):
Samsung Galaxy S®7, Samsung Galaxy S6 Edge+, Samsung Galaxy S®6, Samsung Galaxy S®5, Samsung Galaxy Note®5, Samsung Galaxy Note®4, Motorola Nexus 6, Motorola Moto X™ (2014), Motorola Droid Turbo, LG G5™, LG G4, LG G3, LG Nexus 5X, LG Nexus 5, HTC One™, Huawei Nexus 6P™, iPhone® 6s plus, iPhone® 6s, iPhone® 6 plus, iPhone® 6, iPhone® 5s, iPhone® 5c***, iPhone™ 5***, iOS 8.1 and above.

NOTE: View-Master® VR may also work with newer model Android smartphones not listed above that have screens between 5 and 6 inches. ***View-Master VR apps may not be optimized for iPhone® 5 and iPhone® 5c.
Instruction Sheets
Click on a link below to view the Adobe PDF Format Instruction Sheet. To ensure proper operation, please download ALL instruction sheets for your product.
Frequently Asked Questions
Purchase Parts
Sorry, replacement parts are not currently available for this product