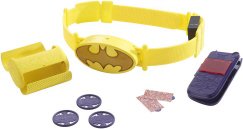 DC Super Hero Girls™ Batgirl™ Utility Belt Accessory
Product#: DNH04
Released: 2016
Discontinued:
Ages: 6 years and up
Product Desciption:
Put on Batgirl's utility belt and unleash your power! It's easy to find your inner hero with this role-play set inspired by Batgirl, a favorite student of DC Super Hero High. The crazy smart, totally cool technowizard has a ton of fun gadgets to immerse yourself in Super Hero play. Put the yellow utility belt on to begin -- six snaps and holes ensure a wide range of fits. Push the button on the bat symbol belt buckle to activate lights and sound effects for a dynamic Super Hero moment! Fans of the web series will recognize dynamic sounds and signature phrases of this favorite DC Super Hero Girls character. Take the phone out of its compartment on the belt and open to find the secret messages stored inside -- then close the phone and use it to decode them. Have more secrets to carry? Use the hidden compartment within the bottom of the belt's removable pouch to stash them away -- out of any villain's sight! Young super heroes will love finding their own unique abilities along with the students of DC Super Hero High. Learning to master super powers can be super awkward, but the galaxy is the limit! Wearable utility belt features lights and sound effects, a pouch with secret compartment, phone holder with removable phone/decoder and four secret messages. Colors and decorations may vary. For ages 6 and up.

• Find your inner hero with this role-play utility belt set inspired by DC Super Hero High student Batgirl

• Six snaps on the yellow belt ensure easy take-on and take-off and adjust for a wide range of fits

• Push the button on the bat symbol belt buckle to activate lights and sound effects!

• A phone stored on the belt decodes the four secret messages hidden inside

• A removable pouch hides a compartment in the bottom for secret storage
Instruction Sheets
Click on a link below to view the Adobe PDF Format Instruction Sheet. To ensure proper operation, please download ALL instruction sheets for your product.
Frequently Asked Questions
What are the best kind of batteries to use in Fisher-Price® and Mattel® products?

A.    We recommend using alkaline batteries with our products, as they are great for long-term use and help optimize performance. We don't recommend using Carbon-Zinc batteries. While Carbon-Zinc batteries may work well with low-power devices, they can drain after a short period of time and cause certain products to not function properly.
Purchase Parts
Sorry, replacement parts are not currently available for this product