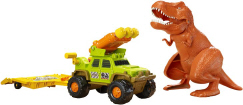 Matchbox® Dino Trapper Trailer™
Product#: CDC71
Released: 2015
Discontinued:
Ages: 3 years and up
Product Desciption:
For every mission, there's a vehicle™. Alert!

There have been reports of Tyrannosaurus rex sightings in the area and it's up to you to send a truck out to investigate.

Did you hear that roar in the distance? Better bring a trailer and capture gear just in case you encounter the savage prehistoric beast.

Uh-oh! There he is and he's heading your way with his glowing eyes! Quickly shoot the three "tranquilizer" darts from your truck. If you manage to hit the dinosaur in the right spot, he'll roar in defeat and "collapse."

Load him onto the trailer with the silvery capture chain, attach the tracking collar, and haul the dino far, far away.

Kids will love the thrill of capturing the dinosaur, hearing him roar and seeing his eyes flash.

Offers lots of imaginative adventure and push-around play. Each sold separately, subject to availability. Colors and decorations may vary.

*Capture the dinosaur that's on the loose!
*Large-scale truck with rugged rolling wheels, cool decos and an attachable trailer that shoots three "tranquilizer" darts.
*Dinosaur roars, eyes flash, and he "collapses" to the ground when he's hit with the darts.
*Non-chest hits from the darts cause him to roar and make his eyes glow red.
*Includes capture gear including a silvery chain and tracking collar for transport.

Instruction Sheets
Click on a link below to view the Adobe PDF Format Instruction Sheet. To ensure proper operation, please download ALL instruction sheets for your product.
Frequently Asked Questions
Purchase Parts
Sorry, replacement parts are not currently available for this product