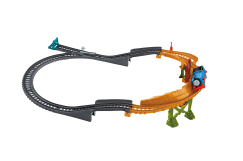 Fisher-Price® Thomas & Friends™ TrackMaster™ Breakaway Bridge Set
Product#: CDB59
Released: 2015
Discontinued:
Ages: 3 years and up
Product Desciption:
Watch out, Thomas – the bridge is damaged! Experience the action and expand your Thomas & Friends™ motorized railway with the TrackMaster™ Breakaway Bridge Set from Fisher-Price! Thomas needs to navigate a risky section of track to complete his journey across the crumbling bridge! After the No. 1 blue engine speeds around the sharp curve, he'll balance on a single rail as half his wheels come off the track! Can he accomplish this daring feat without falling? Featuring a rundown shack and cool eroding track detail, the TrackMaster™ Breakaway Bridge Set delivers exciting, gravity-defying thrills!
• Includes motorized Thomas engine and complete train set track layout
• Thomas balances on one rail as he crosses the Breakaway Bridge
• Features rundown shack and cool track detail
• Perfect way for children to expand their connectable, motorized Thomas & Friends™ TrackMaster™ railway
Instruction Sheets
Click on a link below to view the Adobe PDF Format Instruction Sheet. To ensure proper operation, please download ALL instruction sheets for your product.
Frequently Asked Questions
Purchase Parts
Sorry, replacement parts are not currently available for this product