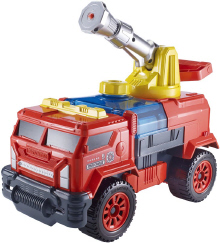 Matchbox Aqua Cannon Fire Truck
Product#: CCW27
Released: 2014
Discontinued:
Ages: 3 years and up
Product Desciption:
For every mission, there's a vehicle™. Kids will love battling blazes just like real-life action heroes with this assortment of large-scale trucks that blast water up to a whopping 20 feet! Whether it's in the city or in the jungle, fire has finally met its match with the Matchbox® Aqua Cannon Fire Truck and Aqua Cannon Adventure Truck. Easy-to-fill water tanks shoot more than 50 shots per tank. Simply pump, aim and shoot to knock out the "fire" and save the day! Kids can perform realistic rescues with trucks suitable for indoor or outdoor play featuring durable styling, rolling wheels and awesome decos. When the adventure is over, the water tank is easy to drain and store until the next real-world mission. Each sold separately, subject to availability.

Batteries not required. Ages 3 and older.

http://www.matchbox.com/hero.html to request a Free Special Edition Heroic Rescue Die Cast Car.
Instruction Sheets
Click on a link below to view the Adobe PDF Format Instruction Sheet. To ensure proper operation, please download ALL instruction sheets for your product.
Frequently Asked Questions
Purchase Parts
Sorry, replacement parts are not currently available for this product