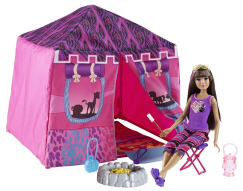 Barbie® Sisters Safari Tent
Product#: BDG23
Released: 2014
Discontinued:
Ages: 3 years and up
Product Desciption:
Setting up camp has never been more fun! Barbie® doll's beautiful tent, with its animal-themed print, is a cozy place for Skipper® doll and her sisters, friends or any combination of the two (other dolls sold separately) to call home while they're out on safari. Bright and colorful inside and out, the tent can hold four dolls for overnight camping in Barbie® style. Tent "windows" show silhouettes of African animals and feature "roll down" shades to block out the sun or let in the stars. Skipper® doll and her camping companions can share ghost stories around the fire pit, sitting in the fold-up chair and roasting marshmallows on a stick. She's a blast of color in a blue and pink leopard print top and bright purple shorts that match the purple streak in her hair. Tall purple safari boots allow her to explore in any terrain, while a lantern, canteen and compass are the perfect tools for getting 'wild.' Includes tent, chair, fire pit and themed accessories. Includes Skipper® doll, tent and themed accessories.
Instruction Sheets
Click on a link below to view the Adobe PDF Format Instruction Sheet. To ensure proper operation, please download ALL instruction sheets for your product.
Frequently Asked Questions
What are the best kind of batteries to use in Fisher-Price® and Mattel® products?

A.    We recommend using alkaline batteries with our products, as they are great for long-term use and help optimize performance. We don't recommend using Carbon-Zinc batteries. While Carbon-Zinc batteries may work well with low-power devices, they can drain after a short period of time and cause certain products to not function properly.
Purchase Parts
Sorry, replacement parts are not currently available for this product