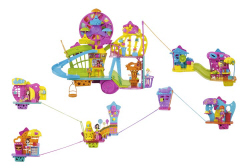 Polly Pocket® Ultimate Wall Party™
Product#: BCD81
Released: 2013
Discontinued:
Ages: 4 years and up
Product Desciption:
Polly® doll and her friends can spend a day at the mall enjoying all sorts of adventures because they shop at the ultimate mall…on the wall!

This mall really elevates play by attaching to the wall with included safe-for-walls Command® strips from 3M while a suction-cup keeps small pieces in place.

Girls can start in the boutique, shopping for shoes, then take a break with a ride on the Ferris wheel, located in the center of the mall. Girls simply power it with the hand crank.

When Polly® doll and her friends have had their turn, girls can push the button to release them down a twisting slide that lands in the food court.

Once energized with snacks, the enthusiastic shoppers can take the real working escalator, also powered by the same hand crank, to the electronics store to pick up a new "camera" or "music player"."

Set comes with Polly® doll, zipline connector piece and chair, toy food, electronic store items (cell phone, head phones, etc.), shoes, handbags, shopping bag, clothing hangers, four safe-for-walls Command Strips® from 3M, wall mounts and storage.

Attach the other shops to amp up the adventure with zipline connectors to transport Polly® between businesses.

Polly® doll and her friends can satisfy their sweet tooth in the Candy Shop. Turn the dial on the candy machine to collect the candies that bounce down the vending slide and into the bag waiting below.

Once all the shopping is done, Crissy® doll (included), can zip down to the cash register via the zipline connector to check out. The set comes with Crissy® doll, a shopping bag for candy, toy candy, zipline, wall mounts, storage and four safe-for-walls Command Strips® from 3M.

At the Pet Store, Polly® doll and her friends can play with the puppy and kitty as they decide which one to bring home (or maybe both). Girls can wash the chosen pet in the tub, dry it off and slide down to check out together using slide-by-side slides. The set includes Polly® doll, a shopping bag, one soft-good towel, pet toys and food, a puppy, kitty, zipline, wall mounts, storage and three safe-for-walls Command Strips® from 3M.

The Cookie Bar entices with an assortment of sweet treats. Open the oven door to reveal the cookies baking - mmm, imagine the delicious aroma! Includes one Lea® doll, a cookie tray, a second tray, a blender, cupcakes, zipline, wall mount, storage and two safe-for-walls Command Strips® from 3M.

The salon attracts attention with a nail station and hair station, where the girlfriends can enjoy manicures and restyle their looks. Flip the nail station when the beauty treatments are done to reveal the cash register that will check them out. The salon features one Polly® doll, cash register/nail station, hair brush, nail brush, scissors, shampoo bottle, zipline, wall mount, storage and one safe-for-walls Command® Strips from 3M.

Or the girlfriends can hit the boutique from some serious shopping. Try on the different options in the fitting room and pay for the best looks at the register. Includes one Lila® doll, shopping bag, clothes, jewelry, clothing hangers, zipline, wall mount, storage and two safe-for-walls Command® Strips from 3M. It's extreme shopping!
Instruction Sheets
Click on a link below to view the Adobe PDF Format Instruction Sheet. To ensure proper operation, please download ALL instruction sheets for your product.
Frequently Asked Questions
What surfaces will 3M Command™ Strips stick to?

3M Command™ Strips can be used on painted, stained or varnished wood, glass, tile, painted cinder block, plaster, metal, and wallboard.

Will 3M Command™ Strips stick to brick?

No. 3M Command™ strips are intended for mostly smooth surfaces. However, they will stick to painted, smooth cinder block (the type found inside many school buildings).

Can I use 3M Command™ Strips on fresh paint?

Paint should be fully cured (check paint can for manufacturer's cure time) before using 3M Command™ strips. We recommend waiting a week. Also, alcohol may remove or dull the surface of fresh paint.

Can I use 3M Command™ Strips on glass windows?

It is okay to use 3M Command™ strips if the glass is not exposed to direct sunlight or not flooded with water. For example: Do not use inside or outside on south or west windows.

Can I use 3M Command™ Strips outside in hot climates?

Extreme heat conditions and sunlight may cause the adhesive to eventually deteriorate, causing product failure. The adhesive could soften and lose adhesion above 105°F (40°C).

What happens if I pull too hard and the 3M Command™ Strip breaks?

Simply heat up the base plate with a hair dryer to soften the adhesive. Then use dental floss to gently cut through the foam to remove the 3M Command™ strip from the surface. Stretch or peel off the remaining adhesive.

Is there latex in 3M Command™ Strips?

No. Command™ Strips contain an adhesive that is a synthetic rubber resin and does not contain natural rubber latex.

What size 3M Command™ Strips are used with the Polly Pocket® Wall Party™ Playsets?

Medium 3M Command Mounting™ Refill Strips can be used to hang the Polly Pocketels® Wall Party™ Playsets.

What are the best kind of batteries to use in Fisher-Price® and Mattel® products?

A.    We recommend using alkaline batteries with our products, as they are great for long-term use and help optimize performance. We don't recommend using Carbon-Zinc batteries. While Carbon-Zinc batteries may work well with low-power devices, they can drain after a short period of time and cause certain products to not function properly.
Purchase Parts
Sorry, replacement parts are not currently available for this product