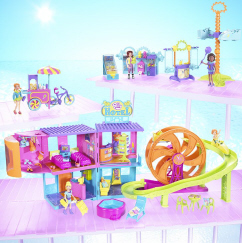 Polly Pocket! Relaxin' Resort' Rock 'n Roller Coaster Hotel Playset
Product#: B7130
Released: 2004
Discontinued: 2006
Ages: 3+
Product Desciption:
There's so much to do at the coolest hotel in town, complete with shops, a café and a rollercoaster that slides Polly right into the lobby. Check in at the first floor lobby and head for the café where you can dine on burgers and fries. After shopping relax on the chaise lounge or soak in the hot tub. There are two rollercoaster cars on the ferris wheel to take Polly to her room on the second floor. Shop for postcards and sunglasses at the Boutique. The floor pulls out to create a balcony. Polly's suite has two beds, TV set and a secret compartment that opens to reveal a deluxe closet! Shani™ and Lea™ dolls each sold separately.
Instruction Sheets
Click on a link below to view the Adobe PDF Format Instruction Sheet. To ensure proper operation, please download ALL instruction sheets for your product.
Frequently Asked Questions
What are the best kind of batteries to use in Fisher-Price® and Mattel® products?

A.    We recommend using alkaline batteries with our products, as they are great for long-term use and help optimize performance. We don't recommend using Carbon-Zinc batteries. While Carbon-Zinc batteries may work well with low-power devices, they can drain after a short period of time and cause certain products to not function properly.
Purchase Parts
Sorry, replacement parts are not currently available for this product