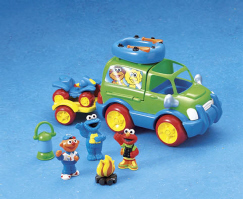 Sport & Go Camper™
Product#: 93784
Released: 2001
Discontinued:
Ages: 18m+
Product Desciption:
Travel the road to adventure with the Sport & Go Camper! This fun-filled SUV opens up into a camper complete with a kitchen, bed and tent. Ernie can catch dinner on the fishing dock while Cookie Monster roasts marshmallows on the campfire. Thrill as Elmo rides the rapids on the water raft and join your Sesame Street friends as they hit the trails in their off-road quad. The water raft fits right on the roof of the vehicle and all pieces store conveniently inside.
Frequently Asked Questions
Where can I find Seasame Street non FP licensed products?

Sesame Street consumers looking for non-FP licensed products are to be referred to Sesame Street Headquarters @ 212-595-3456

Also, consumers may find information on line @ http://www.sesameworkshop.org/partners

What are the best kind of batteries to use in Fisher-Price® and Mattel® products?

A.    We recommend using alkaline batteries with our products, as they are great for long-term use and help optimize performance. We don't recommend using Carbon-Zinc batteries. While Carbon-Zinc batteries may work well with low-power devices, they can drain after a short period of time and cause certain products to not function properly.
Purchase Parts
Sorry, replacement parts are not currently available for this product