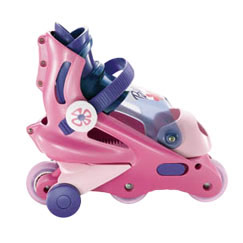 Barbie™ Learn 2 Inline Skates™
Product#: 77203
Released: 2003
Discontinued: 2010
Ages: 3 yrs. & up
Product Desciption:
The ultra-cool wheels on these skates are lined up for miles of fun, right from the start! Removable training wheels help kids learn to balance on inline skates and give them the boost of confidence they need to develop skating skills. When your child is ready to skate without extra help, it's quick and easy to take the training wheels off. A comfortable, high skate boot supports little ankles, and the flexible ankle strap makes it easy for kids to get the skates on and off. Rear brake, cool colors and awesome translucent wheels add to inline skating fun! Size adjusts easily for kids on-the-grow, from child's size 9 to size 1. Rated INTERMEDIATE in the Roll 2 Pro™ System. Maximum weight: 70 lbs. (32 kg).
Instruction Sheets
Click on a link below to view the Adobe PDF Format Instruction Sheet. To ensure proper operation, please download ALL instruction sheets for your product.
Frequently Asked Questions
What are the best kind of batteries to use in Fisher-Price® and Mattel® products?

A.    We recommend using alkaline batteries with our products, as they are great for long-term use and help optimize performance. We don't recommend using Carbon-Zinc batteries. While Carbon-Zinc batteries may work well with low-power devices, they can drain after a short period of time and cause certain products to not function properly.
Purchase Parts
Sorry, replacement parts are not currently available for this product