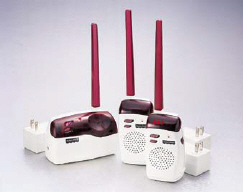 Sound n' Lights Nursery Monitor with Dual Receivers (49 mHz)
Product#: 71590
Released: 2001
Discontinued: 2001
Ages: Adult custody product.
Product Desciption:
This monitor lets you stay in touch with your baby, from inside or outside. Two receivers to maximize coverage, so you won't miss a sound: just leave one receiver in the room you spend most time in, then carry the other receiver along if you're going from room to room. Two channels to minimize interference. Variable light display lets you "see" the level of sound your baby is making. Out-of-range and low battery indicators, and durable antennas. Portable transmitter and receiver operate on battery or line power. Each receiver uses one 9 volt battery, not included.

Note: product not intended to replace parental supervision of child; it is intended to assist parents in supervision of child.
Instruction Sheets
Click on a link below to view the Adobe PDF Format Instruction Sheet. To ensure proper operation, please download ALL instruction sheets for your product.
Frequently Asked Questions
Purchase Parts
Sorry, replacement parts are not currently available for this product