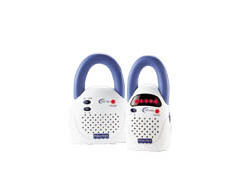 Sounds So Clear™ Nursery Monitor (900 mHz)
Product#: 71580
Released: 2000
Discontinued: 2001
Ages: Adult custody product.
Product Desciption:
Now you can stay tuned in to your baby even while you're in another part of the house or outside in the yard. This highly sensitive monitor featuring 900 MHz technology, superior range and sound clarity plus a variable light display lets you see and hear your child's level of sound. Two channels to minimize outside interference; power and low battery indicators; volume control; on/off switch. Receiver is AC-powered or operates on one 9-volt alkaline battery for portability (not included). Transmitter is AC-powered. Two AC adaptors are included.
Instruction Sheets
Click on a link below to view the Adobe PDF Format Instruction Sheet. To ensure proper operation, please download ALL instruction sheets for your product.
Frequently Asked Questions
Purchase Parts
Sorry, replacement parts are not currently available for this product