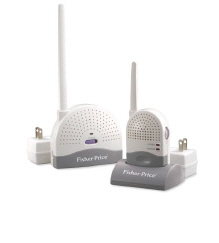 Cordless Nursery Monitor (49 mHz)
Product#: 71562
Released: 1996
Discontinued: 1999
Ages: Adult custody product.
Product Desciption:
We know how much you appreciate convenience. That's why we made this innovative monitor even easier for you to use! Like a cordless phone, it's designed for maximum portability: use the receiver during the day, without cords and without having to replace batteries; then place the receiver in the base overnight to recharge while still monitoring your baby. A power indicator lets you know when monitor needs to be recharged. Two channels minimize interference.
Instruction Sheets
Click on a link below to view the Adobe PDF Format Instruction Sheet. To ensure proper operation, please download ALL instruction sheets for your product.
Frequently Asked Questions
Purchase Parts
Sorry, replacement parts are not currently available for this product