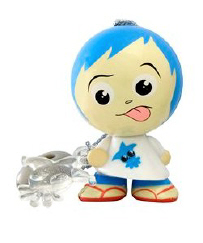 F.A.M.P.S. Silly
Product#: P9331
Released: 2009
Discontinued: 2010
Ages: 6+
Feelings, attitudes, moods, personalities—FAMPS™!
Unlock a world of emotion on your PC with
FAMPS™ games, emoticons, screensavers and more.
FAMPS™ allow you to create a unique emotional
makeover for your desktop, e-mail and IM
so you can express yourself in all kinds of
fun new ways with your friends and family.
Let your emotions run free with custom
wallpapers, e-cards, avatars and more.
Includes: 1 FAMPS™, lanyard and 1 charm.
Requires FAMPS™ starter kit (sold separately).
Collect them all! Each sold separately.
System Requirements
As of January 2011 the online features of F.A.M.P.S™ are no longer being supported. We understand that F.A.M.P.S™ has been enjoyed by many for the past several years, and we apologize for any disappointment this may cause.
PC Specification:
Microsoft® Windows™ XP/Vista - 32 bit operating System
Intel® Pentium® 4 Processor or Dual Core AMD Athlon™ Processor.
1.5 GB RAM
CD-ROM
Keyboard
Mouse
1024 x 768 (16bit) screen resolution.
Internet Access
Mac® Specifications:
Mac® OS X 10.4.11 or later.
Intel® Core Duo Processor
1.5 GIG RAM
Power PC MACS ARE NOT supported.
CD-ROM
Keyboard
Mouse
1024 X 768 (16bit) screen resolution.
Internet Access
Frequently Asked Questions
Purchase Parts
Sorry, replacement parts are not currently available for this product