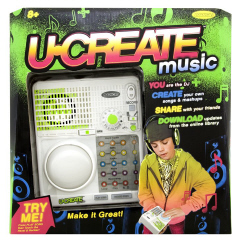 UCreate Music
Product#: N9496
Released: 2009
Discontinued: 2010
Ages: 8+
Ucreate Music is an easy-to-use digital music-making system that allows kids to mix music just like a music producer! Kids and tweens can express themselves through creating their own songs, performances and re-mixes with the fun and innovative interface. They can record samples, mix and match loops, share creations with friends and update and explore new content on the music website at myucreate.com. Build from a collection of tracks, special effects and filters from the huge online library. Includes 4 AA batteries.
Instruction Sheets
Click on a link below to view the Adobe PDF Format Instruction Sheet. To ensure proper operation, please download ALL instruction sheets for your product.
System Requirements
As of January 2011 the online features of Ucreate™ are no longer being supported. We understand that Ucreate™ has been enjoyed by many for the past several years, and we apologize for any disappointment this may cause.
Frequently Asked Questions
Purchase Parts
Sorry, replacement parts are not currently available for this product