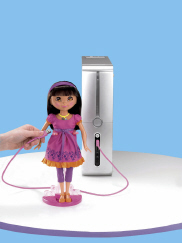 Dora Links
Little girls will be amazed by the revolutionary Dora Linkz doll, new in Fall 2009. Dora is now older and comes to life as Dora Linkz, the first-ever doll with upload and download capabilities that work seamlessly with her online world.

Plug Dora Linkz into your computer and unlock a world of customization on and off-line. Watch as her eyes move, her hair grows, her cheeks light up, her mouth blinks as she speaks and her jewelry flashes, all in response to actions that happen online!

Dora Linkz comes with doll, stand, USB cord, CD, Chair, purse and brush.

Compatible with WinXP SP3 and Vista 32 Bit Operating Systems.
Frequently Asked Questions