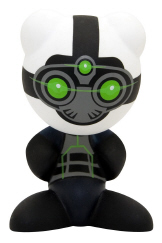 Snipe
Product#: N2941
Released: 2008
Discontinued: 2010
Ages: 8+
N9268 U.B. FUNKEYS™ DREAM STATE™ Assortment: The latest expansion of U.B. Funkeys™ characters, Dream State™, features 30 new figures to collect and connect. Each figure unlocks a new game in either Nightmare Rift™ or Daydream Oasis™ zones, as well as offering exciting items to customize your crib. U.B. Funkeys™ also let players safely communicate with each other in the game through a chat feature, as well as U.B. Funkeys™ that unlock multiplayer games to let players compete against their friends! There are also quests to go on, where you can earn more coins and items by completing missions within the world. With U.B. Funkeys™ your world grows with your collection!
System Requirements
Windows® Vista or Windows® XP.
800 MHz Processor (1.3 GHz recommended)
512 MB Ram
1 GB of drive space
USB Port (cable included)\
32 MB video card (64 recommended)
8x CD or DVD Drive
Sound Card, Keyboard and Mouse
Adobe® Flash™ 9 (Included on disc.)
Broadband Internet Connection Recommended.
For 64-bit Systems - Download the 4.8 Software. **This download is no longer available.
This Product is not compatible with Windows® 7, Windows® 8, or Mac®.
Frequently Asked Questions
Purchase Parts
Sorry, replacement parts are not currently available for this product