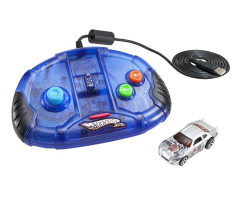 Hot Wheels® Turbo Driver™
HotWheels.com Turbo Driver™ Controller
The HotWheels.com Turbo Driver™ is an online game controller that gives boys access to Race The World™, an exclusive racing game, and also works with more than 20 cool games hosted on HotWheels.com. The player works with 8 different Car-Tridge™ vehicles (one comes with the controller, 7 are sold separately). Each Car-Tridge™, when loaded into the controller, shows up on screen and enables a boy to race with all the attributes of that exact car. Each car works best in one of 8 environments in the game, so choose the best Car-Tridge™ and conquer each level of the game to become the ultimate extreme racer.
System Requirements
Windows® 2000/ XP/ Vista

™

1.3 GHz Processor (1.8 GHz recommended)

512 MB RAM (1 GHz recommended)

DirectX® 9.0 or higher (DirectX® 9.0c included)

DirectX® 9.0 compatible video card with 64 MB memory (128 MB recommended)

DirectX® compatible sound card

Broadband Internet Connection
This product is not Mac® compatible
Frequently Asked Questions