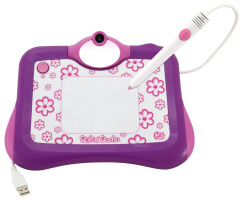 Girl Tech Stylin' Studio
Product#: N0504
Released: 2008
Discontinued: 2010
Ages: 6+
Stylin' Studio: Now you can see who you can be on your PC. Using the built-in digital camera, give yourself a new makeover by changing your hairstyle, adding accessories and applying make-up. Print or email your new looks to friends and family! *Built-In digital camera *Touchpad vanity with lights *Easy single-click printing *Photo booth mode
Instruction Sheets
Click on a link below to view the Adobe PDF Format Instruction Sheet. To ensure proper operation, please download ALL instruction sheets for your product.
System Requirements
Microsoft® Windows® XP or Vista™
800 MHZ Processor
256 MB of RAM
1GB of free hard drive space
USB Port
32 MB of Video RAM (64 MB recommended)
8X CD or DVD Drive
This product is not Mac® compatible.
Frequently Asked Questions
Purchase Parts
Sorry, replacement parts are not currently available for this product