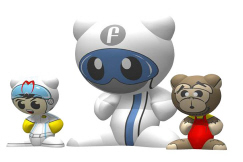 Funkeys Speed Racer Starter Kit 2
Product#: M9772
Released: 2008
Discontinued: 2010
Ages: 8+
Bring the world of Speed Racer to your computer with this U.B. Funkeys™ starter kit! Just plug the U.B. Funkeys™ hub into any USB port. Then set out on movie inspired action adventures with all the stars! Unlock games, race the Mach 5, face off with bad guys and win prizes! Speed Racer and Mach 5 are ready to show you the thrills inside this special racing world! Includes Speed Racer and Chim-Chim.
System Requirements
Windows® Vista or Windows® XP.
800 MHz Processor (1.3 GHz recommended)
512 MB Ram
1 GB of drive space
USB Port (cable included)\
32 MB video card (64 recommended)
8x CD or DVD Drive
Sound Card, Keyboard and Mouse
Adobe® Flash™ 9 (Included on disc.)
Broadband Internet Connection Recommended.
For 64-bit Systems - Download the 4.8 Software. **This download is no longer available.
This Product is not compatible with Windows® 7, Windows® 8, or Mac®.
Frequently Asked Questions
Purchase Parts
Sorry, replacement parts are not currently available for this product