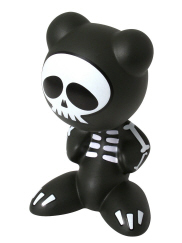 Bones
Product#: M1624
Released: 2007
Discontinued: 2010
Ages: 8+
U.B. Funkeys™ – the collectable figures that unlock a virtual world filled with games and items. Each figure that you collect unlocks new zones. Play the games in the zones you unlock to earn coins to buy items you can decorate your "crib" with. Post your crib online for all of your friends to see! No batteries required. 42 Collectable figures New games in each new zone. Earn coins to decorate your "crib" Share your crib with friends online.
System Requirements
Windows® Vista or Windows® XP.
800 MHz Processor (1.3 GHz recommended)
512 MB Ram
1 GB of drive space
USB Port (cable included)\
32 MB video card (64 recommended)
8x CD or DVD Drive
Sound Card, Keyboard and Mouse
Adobe® Flash™ 9 (Included on disc.)
Broadband Internet Connection Recommended.
For 64-bit Systems - Download the 4.8 Software. **This download is no longer available.
This Product is not compatible with Windows® 7, Windows® 8, or Mac®.
Frequently Asked Questions
Purchase Parts
Sorry, replacement parts are not currently available for this product