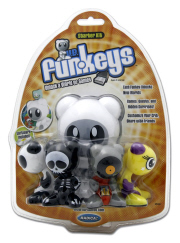 Funkeys Town Specialty Starter Kit
Product#: M0861
Released: 2007
Discontinued: 2010
Ages: 8+
Funkeys™ - the collectable figures that unlock a virtual world filled with games and items. Pack of 4 characters and one UB Funkeys Hub.
System Requirements
Windows® Vista or Windows® XP.
800 MHz Processor (1.3 GHz recommended)
512 MB Ram
1 GB of drive space
USB Port (cable included)\
32 MB video card (64 recommended)
8x CD or DVD Drive
Sound Card, Keyboard and Mouse
Adobe® Flash™ 9 (Included on disc.)
Broadband Internet Connection Recommended.
For 64-bit Systems - Download the 4.8 Software. **This download is no longer available.
This Product is not compatible with Windows® 7, Windows® 8, or Mac®.
Frequently Asked Questions
Purchase Parts
Sorry, replacement parts are not currently available for this product