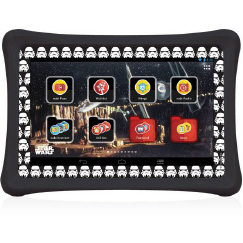 nabi Collector's Edition Tablet: The Force™ Star Wars™ Accessory Bundle – Dark Side
Product#: FCN97
Released: 2016
Discontinued:
Ages: 6 years and up
For the first time, we're introducing the new nabi Collector's Edition Tablet that comes with the Star Wars accessory bundle, dark side version. The Star Wars dark side accessory bundle includes a sleek, black Drop-Safe® bumper as well as a striking Stromtrooper frame and sticker wrap. You can also transform your tablet with a variety of sounds from the films and wallpapers that integrate into your everyday tablet use.

• Collector's Edition This limited edition, collectable nabi tablet is individually stamped with a holographic mark identifying it as one of a finite number of tablets available only in exclusive bundles.

• Stormtrooper Frame and Sticker Wrap Make your nabi Collector's Edition complete with an exclusive Stormtrooper frame, and customize the back of your tablet with the collector's edition Stormtrooper sticker wrap.

• Sounds and Wallpaper From The Films Make your nabi Collector's Edition a tablet from a galaxy far, far away with tons of sounds and wallpapers from the films.

• Dark Side Bumper Protect your nabi Collector's Edition with the black dark side bumper.
Frequently Asked Questions
Purchase Parts
Sorry, replacement parts are not currently available for this product