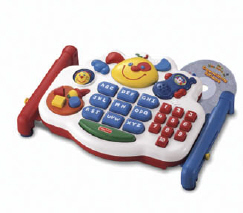 Baby Smartronics™ Computer Learning System
Product#: 71657
Released: 2000
Discontinued: 2006
Ages: 9 mo. & up
Finally, a computer learning system that helps your baby learn on the computer as early as nine months old! The infant-appropriate key-topper sits right over your computer keyboard for convenience and protection. Then the learning fun begins. The specially-designed software offers three levels of developmental learning to grow with baby. When baby taps on the keyboard, the screen comes alive with exciting animation, music, sounds and lots of learning activities. What a great way for you and baby to play and learn together!
System Requirements
PC Requirements
Microsoft

®

Windows 2000, XP,

Vista™

Processor- 750MHz

Memory- 256MB RAM

Hard Drive Space- 250MB available
Please note: Keytopper fits over most standard keybaords (but may not fit some unique styles or ergonomic designs).
This product is not Mac compatible.
Frequently Asked Questions
Purchase Parts
Sorry, replacement parts are not currently available for this product