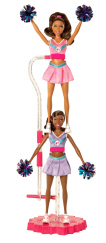 Barbie® I Can Be™ Cheerleader Giftset (AA)
Product#: Y7484
Released: 2013
Discontinued:
Ages: 3 years and up
Barbie® I Can Be…™ Cheerleader Giftset (AA)
With this set, girls can explore cheerleading on a squad-routines are double the fun with two! Using the flip base, girls can make these dolls perform an amazing cheerleading move: each doll is clipped onto two different posts; as girls hold and lift the handle, the second doll will flip up onto the shoulders of the first! The crowd will go wild! Two sets of pom poms complete their uniforms. Includes 2 dolls, cheerleading flip base and posts and 2 sets of pom poms. Dolls cannot stand alone.
PurchaseParts
ReplacementPartsNotAvailable