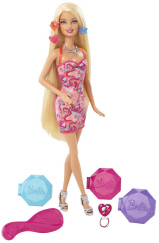 Barbie Hair Chalk Doll
Product#: Y7450
Released: 2013
Discontinued:
Ages: 5 years and up
Barbie® Color Chalk Hair Doll
Barbie® doll loves to stay on top of the latest style trends - whether fashion, accessories or hair! Never afraid to try a new look, Barbie® doll is always willing to play with color, and this salon is all about color! Girls can create lots of possibilities using a new tool they may have tried themselves - hair chalk! Select a section of Barbie® doll's hair and a color pod - the set includes three: two in pretty pink and one in funky blue. Open the pod and clip on the chosen section of hair; then swipe. The color of Barbie® doll's hair will transform as the pod moves over her hair! Add multiple streaks or highlight one strand. Use one pod or all three. Blend the colors or keep them separate. Let the look hang loose or add even more complexity with styling. The set also includes a hairbrush and accessories to really maximize the possibilities. Choose a hairband (pink, blue or black) or a glittery hair clip (pink heart, blue star or blush diamond). Create the perfect look for whatever event is on the calendar, then take it down and start all over for the next photo op! The color washes out for more transformations. And to make restyling even easier, the salon station comes with a working sink! Simply add water and pump to release water through the attached hose and brush. It's endless styling for endless fun!
PurchaseParts
ReplacementPartsNotAvailable